People that own a traditional or digital camera may have a lot of various accessories like a tripod, memory cards, lenses, etc. Photographers will gather many accessories after some time, and eventually, they will pile up. Standard bags don't have the necessary features to keep your accessories and cameras safe. To keep your belongings safe, you need to take a look at this article to choose the right camera bag for your needs.
Various Camera Bags
Various camera bags are now available on the market with a lot of add-on features. Suppose you are a photographer, who travels frequently and prefers using a DSLR with many add-on accessories or a compact camera. In that case, you will find many camera bags online that suit your specific needs. You will also find camera bags that are airline friendly and compact to be easy to carry around.
Safe Camera Bag
The common problem of traditional bags is the lack of thick padding that it needs to carry your fragile and sensitive camera kit properly. Special camera bags are designed to reduce the impact of scrapes, bumps, and knocks encountered daily while carrying bags around while traveling. For added protection, camera bags have thick padding lined with other materials, rubber, and foam.
Many Accessory Pockets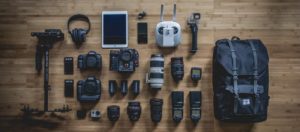 To capture high-quality photos, a photographer needs a lot of accessories. They will need a laptop, different lenses, a tripod, and a reflector. To carry all these accessories, a photographer needs a bag with a lot of room and pockets to take these things. Many camera bags have added features with various pocket sizes to keep these accessories safe. So before traveling and capturing photos, you may need to consider what attachments you may need to bring with you at all times so you may purchase the right camera bag.
Camera Bag for Your Back
Camera kits are very heavy, and photographers prefer carrying many long lenses to change them according to the lighting, scenery, and location. Many photographers commonly use sling bags, but the limitations are you are unable to carry many accessories that you may need during a photoshoot. Camera backpacks will distribute the weight on your back consistently. It is an essential item that photographers need that requires them to travel to a lot of places and shoot multiple photos in one whole day. Camera backpacks can also have a waist strap to support a photographer's waist area while traveling.